Helen Keller Foundation honors Claes H. Dohman, MD, PhD
Professor Claes Dohlman, MD, PhD, President of the 8th KPro meeting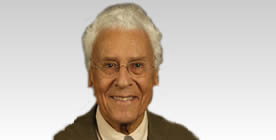 Harvard Medical School emeritus professor of ophthalmology receives Helen Keller Prize for Vision Research
The Helen Keller Foundation will honor Claes H. Dohlman, MD, PhD, as the 2010 Helen Keller Laureate at a ceremony during the Annual Meeting.
The foundation established the Helen Keller Prize in 1994 as a way to promote public recognition of vision research. An international panel of biomedical researchers and physicians select the Laureates, who are honored each year at the ARVO Annual Meeting.
Dohlman founded the Mass Eye and Ear Cornea Service and the Cornea fellowship program. One of his many accomplishments was the development of the Boston Keratoprosthesis, or "artificial cornea," which provides alternative treatment for patients who cannot undergo a standard corneal transplant.
Dohlman served as the chief and chair of the Department of Ophthalmology at Harvard Medical School and Mass Eye and Ear from 1974 to 1989.  He is an emeritus professor of ophthalmology at Harvard Medical School.
Comments