February 26, 2013 by · Leave a Comment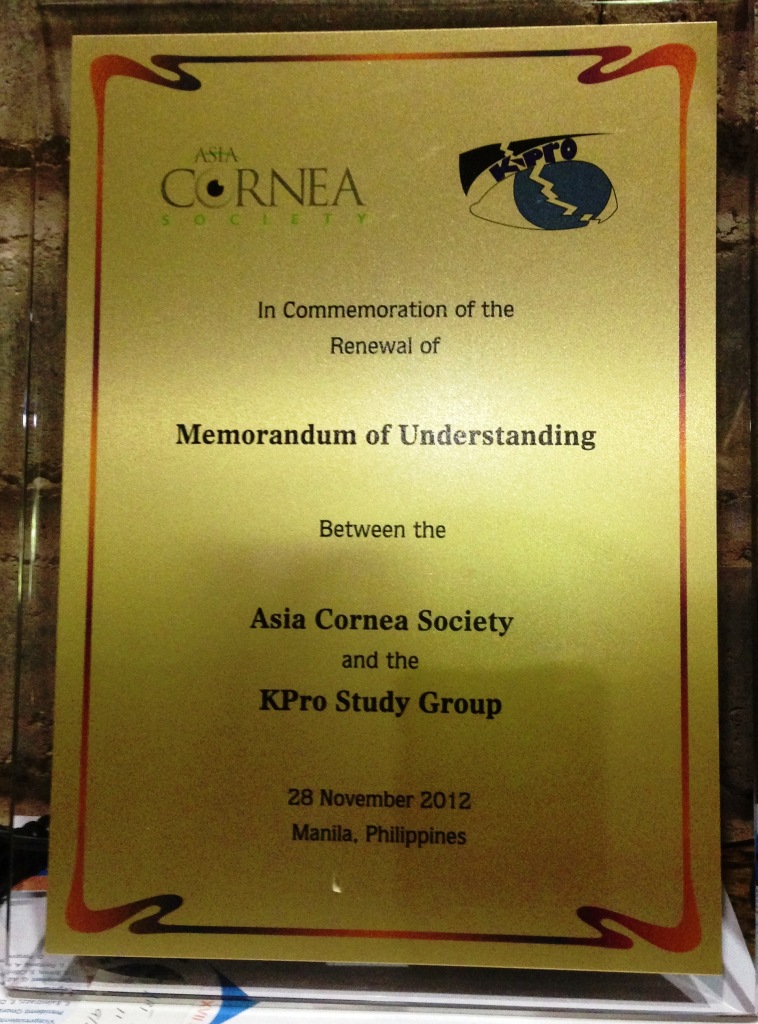 We also have a renewed Memorandum of Understanding between the Asia Cornea Society and the KPro Study Group
OBJECTIVE
This Memorandum of Understanding (MOU) expresses the general understanding and intentions of the ACS www.asiacorneasociety.org and KPro Study Group concerning affiliation.  The purpose of this affiliation is to link up both societies to establish a global network of corneal subspecialists and researchers with the common vision of fostering the exchange of knowledge and information on clinical, educational and research aspects of the corneal subspecialty dedicated to the advancement of corneal subspecialty.
February 25, 2013 by JMP · Leave a Comment
ARVO 2013
Washington State Convention Center, Seattle, Washington
SIG
Sunday May 5, 2013
Session #156
1:00:00 PM – 2:30:00 PM Room TCC 303
  "Understanding the role biofilm and infections in keratoprosthesis"
The aim of this SIG is to discuss different aspects of biofilm formation as a key in infections and surface material selection in the context of keratoprosthesis.  Incorporating aspects of surface and tissue imaging and detection of biofilm will help identify the three facets that might affect biointegration in keratoprosthesis: chemical, mechanical and biological sources.
Organiser:
Deborah Sweeney
Moderators:
Jose de la Cruz, Victor Perez
Opening comments (4 min): The evolution of KPros and infections
Michael Belin
Panel Discussion (12 min):  Biofilm in keratoprosthesis, infection or inflammation Relations between biofilm and infection
Darlene Miller
Materials and adherence of biofilm
Jean Jacob
New frontiers in biofilm and infection in the eye
Michael E. Zegans
Open Discussion (45 min)
Panelists
Michael Belin
(chair)
Donald Tan Jim Chodosh Debbie Sweeney Jean Marie Parel