April 28, 2014 by · Leave a Comment
Friday 13th and Saturday 14th June 2014
Venue: Audrey Emerton Building, Adjacent to Sussex Eye Hospital, Eastern Road, Brighton BN2 5BE
Course Director:Professor Christopher Liu
Contact: Lisa.Stanton@bsuh.nhs.uk
Phone: 01273 523204
Registration Fees (before 16th May): Day Rate: £150 (trainee), £200 (SAS and optometrist), £250 (consultant)
Full course (both days including course dinner):£250 (trainee), £300 (SAS and optometrist), £400 (consultant)Course Dinner: £30 (free for those registered for both days)
Download PDF with complete details Brighton_Corneal_Course
April 10, 2014 by · Leave a Comment
Download (pdf)- KPRO Retinal Detachment Poster Jain-Chau et al 9th Kpro Meeting Austria April 2014
April 10, 2014 by · Leave a Comment
Download (pdf)- KPro-Cystoid Macular Edema poster Miller-Chau et al 9th Kpro Meeting Austria April 2014
April 7, 2014 by · Leave a Comment
Meeting Photos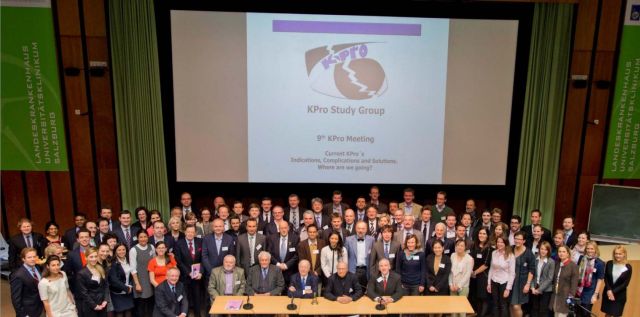 9th KPRO Study Group Video Part 1

9th KPRO Study Group Video Part 2

9th KPRO Study Group Video Part 3

9th KPRO Study Group Video Part 4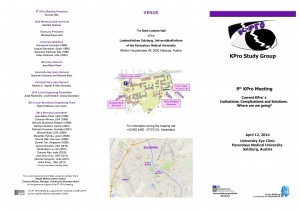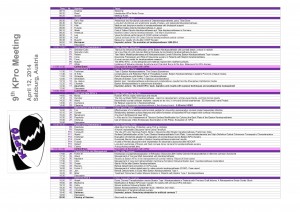 Download PDF version of 9th KPro Revised Program
Download PDF version of 9th KPro Abstracts Book
In view of the VERY large number of presentations, it is MANDATORY for presenters to adhere to the following rules:
1) Oral presentations and poster that are scheduled for Saturday MORNING need to be uploaded/mounted between 5:00pm and 7:00pm on FRIDAY 4/11.
2) ALL oral presentations needs to be in MS Power Point and brought to the projectionist in a USB Flash Drive only. NO laptops allowed.
3) The auditorium will be open at 7am on Saturday for registration.
4) Presentation timing has to be STRICTLY respected – a 1 min timeout warning will be given to the speaker. At timeout, the speaker microphone will be shut down.  Consider this a courtesy to all the speakers after you – this will be a very long one-day meeting and we need to adhere strictly to the time frame !
5) Posters: Maximum size: 120cm (47") wide x 140cm (55") high. Each poster board will be numbered (see program below for YOUR poster number – e.g.: P1, P2, etc)
6) Registration cost is 100 Euros or  140 USD – Cash ONLY – NO checks, NO credit card
Notes:
–    Registrants will receive a Book of Abstracts, a badge and a confirmation of payment at registration.
–    The airport is 20 mins to/from the auditorium by taxi. Registration and security will take another 30mins. Plan 1hr to make its safe. A taxi station is located at the main entrance of the hospital.
– The guided city tour will start 10:00am sharp at the entrance of the dome and will be free of charge and guided by Josef Stoiber´s lovely wife Christina!
– The Sound of Music tour will start by a pick-up bus at the hospital gates at 1:40pm  Our Host Prof Grabner and his colleagues at the University Eye Clinic of the Paracelsus Medical University wishes everyone a safe travel to Salzburg !