July 22, 2013 by · Leave a Comment
EVER 2013 Congress – Nice, France
2 sessions dedicated to KPros (Sept 18-21, 2013):
http://www.ever.be/view_session.php?ses_id=1464
http://www.ever.be/view_session.php?ses_id=1470
February 25, 2013 by JMP · Leave a Comment
ARVO 2013
Washington State Convention Center, Seattle, Washington
SIG
Sunday May 5, 2013
Session #156
1:00:00 PM – 2:30:00 PM Room TCC 303
  "Understanding the role biofilm and infections in keratoprosthesis"
The aim of this SIG is to discuss different aspects of biofilm formation as a key in infections and surface material selection in the context of keratoprosthesis.  Incorporating aspects of surface and tissue imaging and detection of biofilm will help identify the three facets that might affect biointegration in keratoprosthesis: chemical, mechanical and biological sources.
Organiser:
Deborah Sweeney
Moderators:
Jose de la Cruz, Victor Perez
Opening comments (4 min): The evolution of KPros and infections
Michael Belin
Panel Discussion (12 min):  Biofilm in keratoprosthesis, infection or inflammation Relations between biofilm and infection
Darlene Miller
Materials and adherence of biofilm
Jean Jacob
New frontiers in biofilm and infection in the eye
Michael E. Zegans
Open Discussion (45 min)
Panelists
Michael Belin
(chair)
Donald Tan Jim Chodosh Debbie Sweeney Jean Marie Parel
April 22, 2010 by · Leave a Comment
Professor Claes Dohlman, MD, PhD, President of the 8th KPro meeting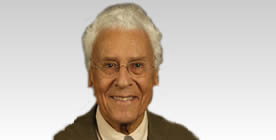 Harvard Medical School emeritus professor of ophthalmology receives Helen Keller Prize for Vision Research
The Helen Keller Foundation will honor Claes H. Dohlman, MD, PhD, as the 2010 Helen Keller Laureate at a ceremony during the Annual Meeting.
The foundation established the Helen Keller Prize in 1994 as a way to promote public recognition of vision research. An international panel of biomedical researchers and physicians select the Laureates, who are honored each year at the ARVO Annual Meeting.
Dohlman founded the Mass Eye and Ear Cornea Service and the Cornea fellowship program. One of his many accomplishments was the development of the Boston Keratoprosthesis, or "artificial cornea," which provides alternative treatment for patients who cannot undergo a standard corneal transplant.
Dohlman served as the chief and chair of the Department of Ophthalmology at Harvard Medical School and Mass Eye and Ear from 1974 to 1989.  He is an emeritus professor of ophthalmology at Harvard Medical School.
October 16, 2009 by · Leave a Comment
At the 7th KPro Study Group Meeting held in conjunction with the recent EVER meeting in Slovenia, the work of Giancarlo Falcinelli was honored. Prof Falcinelli was presented with a KPro Study Group Medal by his peers in recognition of his outstanding global contributions to curing corneal blindness and to honour his achievement as a global educator and humanitarian in the field of ophthalmology.
Photos from the 7th KPro Study Group Meeting, Slovenia, October, 2009 (album 1) | (album 2)
7th KPro Study Group Meeting: Full Program with Abstracts – download
August 26, 2009 by · Leave a Comment
7th KPro Study Group meeting
Portoroz, Slovenia

Saturday October 3, 2009

Title: KPro's Today: Corneal blindness defeated in adults; Good results in Children.
Organization: GC Falcinelli, JM Parel, and D Sweeney
Honorary Presidents:
E Alfonso, J Barraquer, C Dohlman
Meeting Presidents:
J Aquavella, G Grabner
Scientific Committee:
P Colliardo, B Duchense, G Falcinelli, M Fukuda, G Iyer, K Hille, V Perez, S Rao, J Stoiber, D Sweeney, M Taloni, A Temprano
Session 1 Chairman: C Dohlman – Moderator : K Hille and P Colliardo
Time:
8.15
Welcome
G Grabner
8.20
Meeting rationale
GC Falcinelli
8.25
History and the necessity for the KPro
C Liu
KPro Design, Surgical Techniques and Complications
Time :
8.35
The first Keratoprosthesis implantation in 1955
FM De la Paz, J Barraquer
8.45
Boston Keratoprosthesis Type 1 and 2
C Dohlman
8.55
Boston Type 1 in pediatric patients
J Aquavella
9.05
Modified OOKP
GC Falcinelli, P Colliardo
9.15
Barcelona OOKP and Tibial KPro
J Temprano
9.25
AlphaCor,Pintucci and Supradescemetic KPros
K Hille, J Stoiber
9.35
Discussion
Session 2 Chairman: G Grabner – Moderator : CG Falcinelli and J Aquavella

Clinical Results and Indications
Time:
11.00
How should we quantify the performance of KPro´ s?
The Visual Acuity by Time –Index (VATI)
G Grabner
11.10
The Boston Type 1 and 2. The Autoimmune Challenge
J Chodosh
11.22
Boston Pediatric KPros
J Aquavella
11.22           
Boston I Keratoprosthesis in severe ocular surface disease
J Aquavella
11.32
Long-term functional and anatomical results of OOKP and tibial OKP. Barcelona experience
FM De la Paz, J Barraquer
11.42
Tibial KPro
J Temprano
11.50
MOOKP
G Falcinelli, P Colliardo
12.00
AlphaCor, Pintucci, Supradescemetic
G Prosdocimo
12.10
Clinical decision paths in KPro Surgery
G Grabner
12.20
Discussion
Session 3: Chairman: J Barraquer – Moderator: G Falcinelli and V Perez
Time:
13.45
How do get started with offering clinical service
M Fukuda
13.55
Inflammatory responses to KPro: can we control them?
VS Perez
14.05
The Indian Experience with MOOKP
G Iyer
14.15
Retinal detachment in MOOKP
P Colliardo, G Falcinelli
14.25
Dealing with Complications with MOOKP: Oculoplastic
A Gomaa
14.35
Glaucoma treathment in MOOKP
M Taloni, G Falcinelli
14.45
Tibial Bone KPro Technique and Longterm Results
A Temprano
14.55
Discussion
Session 4: Chairman: C Liu – Moderator: M Fukuda and M Taloni
Time:
17.45
The Collagen Corneal Construct – an update
P Fagerholm
17.55
Eastern European and Russian devices
Z Zagorski
18.05
Glaucoma associated with KPros
K Hille
18.15
Improving the optics of KPros
C Hull (presented by C Liu)
18.25
The role of contact lenses in KPros
J Ciolino
18.35
Does imaging help with preventing extrusion?
A Gomaa
18.45
The clinical psychologist's role-a one year look back
A Busutti
18.55
Discussion
September 29, 2008 by · Leave a Comment
The ARVO 2008 Annual Meeting, Eyes on Innovation, was held on April 27-May 1 in Fort Lauderdale, Florida.
The KPro group took advantage of this major meeting to hold a Special Interest Group focused on Keratoprostheses and Glaucoma. The session looked at new technologies associated with corneal prostheses including challenges, advancements and problems, with a special focus on glaucoma.
ARVO is a major forum for vision researchers and practitioners to explore the latest innovative techniques, protocols and tools in development and use by ophthalmic researchers whose quest is to improve patient care and vision and to cure eye diseases.
The SIG attracted many attendees in what proved to be a very interesting session.
The SIG was moderated by Claes Dohlman, Harvard Medical School, and Jean-Marie Parel, Bascom Palmer Eye Institute, University of Miami.
The SIG included presentations from:
Victor Perez: Opening comments & KPro's today – types of implants, indications and problems with Glaucoma
Konrad Hille: Intraocular pressure measurements post KPro implantation
Cynthia Grosskreutz: Incidence and treatment options
Yale Fisher: Endoscopy & KPro
Paul Palmberg: Drainage implants
September 29, 2008 by · Leave a Comment
Author Block: J.P. Garcia, Jr.1A,2, D.C. Ritterband1,2, A. Ko1,2, J.A. Seedor1,2, D.F. Buxton1,2, J. De la Cruz3. ARetina Center, 1New York Eye & Ear Infirmary, New York, NY; 2New York Medical College, Valhalla, NY; 3Illinois Eye & Ear Infirmary, Chicago, IL.
Purpose: To evaluate the anatomic stability of an implanted Boston Type I Keratoprosthesis (KPro)-donor cornea interface, and assess the presence or absence of a potential space (gap) between the KPro front plate and donor cornea using anterior segment optical coherence tomography (AS- OCT). The presence of a gap would raise concerns of a possible pathway for the exchange of fluid between the ocular surface and the anterior chamber.
Methods: Fourteen eyes implanted with a Boston Type I KPro were studied by the non-contact technique of AS-OCT (AC Cornea OCT prototype, OTI, Canada). All the KPro devices had been implanted at least 4 weeks prior to the study (range: 1 to 22 months). Seven eyes had aphakic Kpros and the other 7 had pseudophakic implants. Anesthetized eyes were imaged before and during pressure application using sterile cotton tip applicators. Pressure was applied for 10 seconds just outside the temporal limbal area. Images were analyzed for any possible changes in the KPro-donor cornea interface during the application of pressure.
Results: Of 14 eyes, 10 had the threaded front plate model with a T-shaped silhouette and corrugated sides, whereas 4 had the threadless type with a T-shaped silhouette and smooth sides on cross-sectional OCT. Two of the 14 eyes revealed a gap between the front plate and the surface of the donor cornea, along with pooling of fluorescein within the gap. The rest revealed no gaps. With pressure, none of the eyes, including the two with gaps, demonstrated any change in the KPro-donor cornea interface during dynamic imaging (e.g. gaping, evidence of fluid entry or escape along the KPro-donor cornea borders). In all eyes, the titanium locking ring was visualized in its proper position.
Conclusions: The stability of an implanted KPro-donor cornea interface has been demonstrated dynamically utilizing AS-OCT. A gap that has been documented with this imaging tool showed neither extension nor exchange of fluid between the two environments during dynamic cross sectional imaging. All 14 eyes demonstrated proper positioning of the back plate and titanium locking ring, thus confirming that the phenomenon is not due to a loose fitting, unscrewing or improperly placed locking ring. Further studies will be needed to assess the cause of these gaps and determine if they are possibly related to the hydration status of the cornea, interaction of the cornea with prolonged use of a bandage contact lens or to other factors not yet determined.
Commercial Relationship: J.P. Garcia, OPKO, R; D.C. Ritterband, None; A. Ko, None; J.A. Seedor, None; D.F. Buxton, None; J. De la Cruz, None.
August 8, 2008 by JMP · Leave a Comment
Dr Stefano Pintucci was the director of the non-profit Oftalma Association of Rome, well known for having improved the artificial cornea.  Stefano Pintucci was born in Rome on 14.07.1959. He graduated in Medicine in 1984 at the age of 24 years from the Università degli Studi di Roma "La Sapienza".
He then undertook residency in ophthalmology and wrote his experimental thesis on the "Immunohistochemical characteristics of the relationships between ocular melanomas, the optic nerve and the neuroendocrine system, supervised by Professor Giuseppe Scuderi.  Work from the thesis was extensively published in the journal of Clinical and Pathological Ophthalmology.
Throughout his residency Stefano was in the top third of his class, and he completed his residency in 1988 with his thesis on "A study of the biocompatibility and design of a new type of keratoprosthesis, using an electron microscope in vivo and in vitro".  This study is one of the most cited publications in the area of keratoprostheses.
In his career, as well as being an expert ophthalmologist and surgeon, Dr Pintucci was a very active researcher, developing new keratoprosthesis, in particular new and improved designs for an artificial cornea.  He held 19 patents in the area.
In 2005 Dr Pintucci wrote:
"In the last 21 years, the Pintucci KP has been implanted in 1,128 eyes in Europe, Asia, India and Africa, under different socioeconomic conditions.  Functional results have been successful. More than half of the patients obtained enough visual acuity to be independent, and nearly one-quarter of them improved to 20/30 or better. Visual field is not limited because of the improved Pintucci KP optics.  The Pintucci KP has overcome many of the difficulties presented by mechanical anchorage and biointegratability of keratoprostheses." (Ocular Surgery News)
Italian news reported on Bruno Modonutti, a patient who was blind in both eyes.  He was operated on in 2000 by Dr Pintucci, who restored sight in one eye.  Bruno, age 60, went on in 2005 to participate in the Italian National Bocce Championships.
Stefano Pintucci was internationally recognized with almost 100 invited presentations at national and international conferences, and he received a number of awards in Italy and Europe for his work. He was an active member of the professional community, being a member of the Italian society of ophthalmology; the Italian ocular prosthesis association; the ophthalmology society of France; the Italian and European societies of biomaterials; the American Academy if Ophthalmology; the Italian society of paediatric ophthalmology; the International Society of Refractive Surgery; and the KPro Study Group.  He published 113 refereed papers.
July 24, 2008 by · Leave a Comment
On July 15 2007 Dr. Frank Polack, our colleague and friend, passed away. Frank was born and raised in Lima, Peru, and received his MD degree in 1954 from San Marcos University. After his graduation he emigrated to the United States, where he did his internship and began a residency in Neuropsychiatry at Grasslands Hospital, Valhalla, NY, a subsidiary of New York University Medical School. In 1956 he was married by proxy, his brother standing in for him, to his childhood sweetheart, Patricia Garcia, then Secretary to American Ambassador to Peru, who soon joined him in New York.
His contact with Dr. Ramon Castroviejo, the world-renowned pioneer in corneal surgery, had persuaded him to change his career choice to ophthalmology, and in 1957, he began his training at Grasslands under Dr. AG ''Gerry" Devoe, then Chair at NYU, who was also a pioneer in corneal surgery. On completion of his residency in 1960, he began an NIH Fellowship under Dr George Smelser at the Eye Institute at Columbia, where he remained for 7 years, during which time he published his groundbreaking studies on electron microscopy of the eye.
Frank joined the faculty at SUNY HSCB where he formed a close personal association with Dr. Donald Willard, with whom he founded the American Ophthalmic Microsurgery Study Club in 1980. In 1967, he left New York to join Dr Herbert Kaufman at the University of Florida, where he continued his clinical and research interests in the cornea, reaching the rank of professor, as well as appointments as adjunct professor in the departments of veterinary medicine and of anatomy.
It was in May 1975 at the PAAO Meeting in San Juan, Puerto Rico, that Frank organized a meeting of a group of former students and associates and colleagues of Dr Ramon Castroviejo and proposed to form a society devoted exclusively to the cornea, to be called the Castroviejo Society (renamed the Cornea Society in 2002). Frank, as principal architect of the society, was elected secretary-treasurer and the first meeting was held during the 1975 AAOO meeting in Dallas, TX. In 1978, Frank founded the journal Cornea, the official journal of the society and the first peer-reviewed journal devoted to the cornea. He remained its editor in chief until 1991.
Frank was a frequent lecturer at national and international meetings and courses. Over his career, he published 180 peer reviewed papers, 5 books, and 12 book chapters on electron microscopy, immunology and corneal transplantation, external disease, and microsurgery of the eye.
In 1980, he left full-time academic medicine and entered private practice in Gainesville. Pat continued to work closely with him in his office, on the journal, and on his continuing publications until his retirement in 2001. In 2005 he was awarded the World Congress Medal, the highest honor of the World Corneal Congress V sponsored by the Cornea Society, in recognition of his many clinical and scientific contributions to the subspecialty, and in particular for his seminal role in the founding of the Castroviejo Society, and the journal Cornea.
Frank is survived by his wife of 51 years, Patricia; 3 sons, Frank E., Peter, a specialist in cornea and refractive surgery, and William; and 4 grandsons.
May 20, 2008 by JMP · Leave a Comment
This page is only available to members of KPRO Only.
Please Enter your password to proceed.