October 23, 2017 by · Leave a Comment
11th KPro Study Group Meeting in Barcelona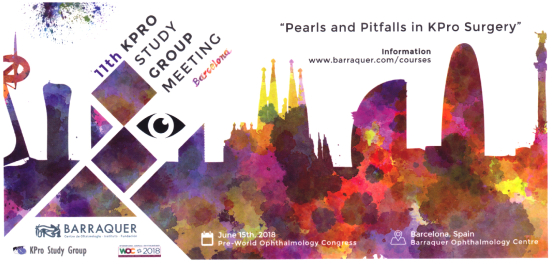 Biannual meeting of keratoprosthesis (artificial cornea) experts and aficionados all over the world, whereby we exchange our experiences, new techniques and results of research for end stage corneal diseases which are otherwise deemed to blindness.
Submission Form (click to download, complete, & return to email listed below)
Organizer: Centro de Oftalmología Barraquer
Date: June 15, 2018 (morning session 8:00 – 1:30 pm, afternoon session 3:00 – 7:00 pm)
Meeting will occur 1 day before the World Ophthalmology Congress also held in Barcelona.
Venue: Cuatrecasas Auditorium, Avenida Diagonal 191, Barcelona
Social Activities: Welcome dinner for invited guest speakers and staff
Meeting Title:  Pearls and Pitfalls in KPro Surgery
Meeting Language: English (no simultaneous translation available)
Meeting Objectives: The aim of the meeting is to teach beginning or aspiring KPro surgeons on how to make insightful decision making on when and when not to do KPro surgery, to wisely choose which kind of KPro for individual cases and to effectively manage, as well as prevent possible complications. Moreover, expert surgeons will impart their long-term experience.
Registration fee: 100 Euros
Abstract Submission Deadline:  April 15, 2018
Email abstract to:
jnapoli@hotmail.com; lizeldelapaz@yahoo.com; charoenrook@barraquer.com; jmparel@med.miam.edu
Topics:
Epidemiological studies and updates on present KPros.
Mesoplants: where are we headed for?
 When and Which KPro?
KPros in pediatric cases.
The Boston KPro Type 2: surgical technique, results and complications.
Prevention and management of KPro complications (except glaucoma and retina).
Glaucoma and KPro: how to approach the dilemma.
Retina and KPro: surgical techniques.
Visual loss thru time: why and how?
Struggling with the KPro, a rookie´s point of view.
Video symposium – participants will be asked to send short videos (2 minutes each) on surgical pearls or special techniques to be commented on by a panel of experts.
"Ask the Experts"
Introducing KPro practice around the world
40 years' experience with tibia keratoprosthesis
When to reconstruct the ocular surface and when to do KPro
MOOKP in the U.S.
Different folks, different strokes: reconstructing techniques for the extruded KPros